Bitcasino as the name suggests is a Bitcoin Casino, but is it the best Bitcoin Casino? That's what we'll be discussing in this Bitcasino review.
The casino has a tagline which reads "First licensed online Bitcoin Casino". Note that it's not as feature-rich as the other casinos we've enlisted on our Best Bitcoin Casinos list. Infact, it very well could be one of the least feature-rich crypto Casinos so far.
But, its simple existence is what makes it worthwhile as you'll soon see. As is the norm over here, here's everything we're discussing:
Bitcasino Overview
Let's get you a sneak-peek into the casino before getting into its finer details?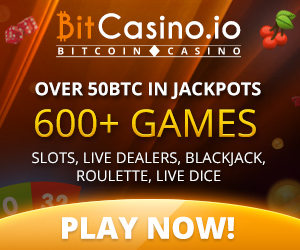 Website: https://www.Bitcasino.com
KYC:

Optional.

Provably Fair:

Yes.

Licensed:

Yes.

Welcome Bonus:

None.

Deposit Methods:

Crypto + Fiats.

Live Chat:

Yes

Total games:

2187.
Let's get started then?
Does Bitcasino require KYC?
Alike most other best Bitcoin casinos, the KYC policy on Bitcasino too is "optional". So it's totally possible to deposit/withdraw funds, as well as bet on the Casino without any mandatory KYC.
However, the security team does often ask for documents at its own discretion. So it's not mandatory, but almost always required just at a later time.
Also, KYC will almost surely be asked for if you try to withdraw more than, or equal to 1BTC / €2000. And finally, E-mail ID verifications are mandatory for any and all withdrawals.
As for registrations, here's the form: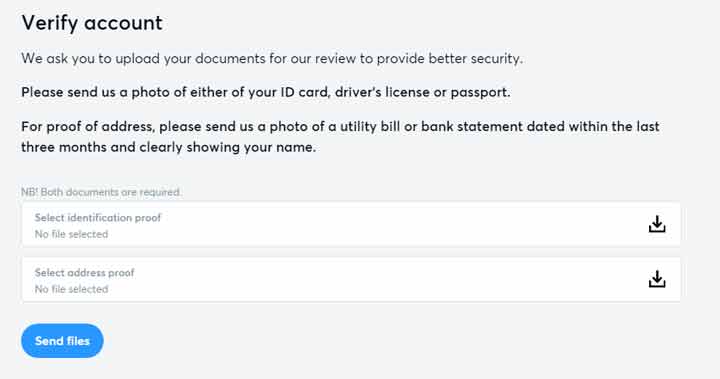 Being honest, it does seem a bit more demanding than some other more privacy-respecting Casinos. Primarily because it asks for our "Date of Birth". We've confirmed that the date of birth provided during registrations "can" technically be untrue, but it may create problems during the KYC verification later.
The verification can also be manually completed at any time. The process is comparatively simpler, just upload an ID and an address proof.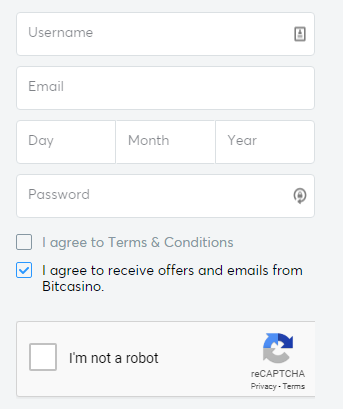 All in all, it's not a very conservative Bitcoin casino. Infact, all our casino reviews such as Bitstarz review, or 1x Bit Casino review offer similar KYC modes.
How can you deposit/withdraw funds on Bitcasino?
Even though we do not recommend fiat usage, the Casino does accept both Cryptocurrencies and Fiat.  The deposit modes available depend on the exact currency you've selected.
For e.g. users need to "Add currency" in their profile prior to deposits. So if you select JPY or any other fiat currency, the deposit modes will vary accordingly.
Also note which fiat currencies you can deposit would depend on your country of residence. So the available options will vary for every single one of you.
All in all, you can buy BTC directly on the platform using Credit/Debit cards (VISA/ Mastercards). The funds are directly credited to your casino account.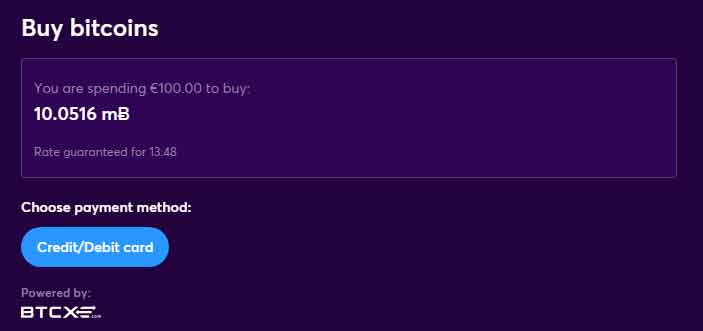 Note that JPY has a number of other deposit modes available as shown in the following screenshot: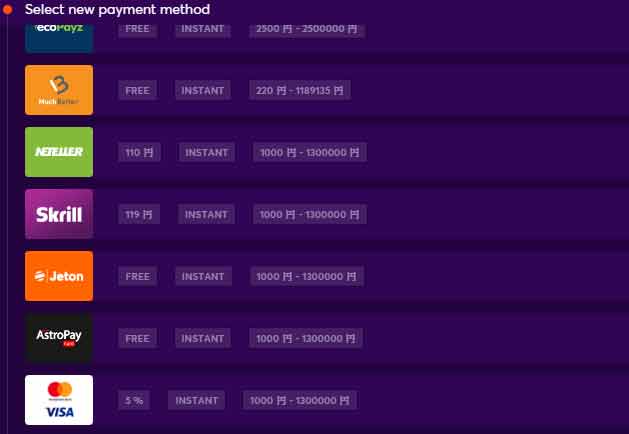 As for Cryptocurrencies, the following are supported:
What are the Bitcasino Bonuses?
Not the finest moments on this Bitcasino review. The casino doesn't offer any deposit bonuses anymore. Rather, they converted their bonuses into a "Loyalty Program".
It's basically like the VIP program on most other Casinos. You play games, you get points. There are point-thresholds which decide a player's loyalty-level. The rewards you get are dependent on these levels. On Bitcasino, there are a total of 7 levels.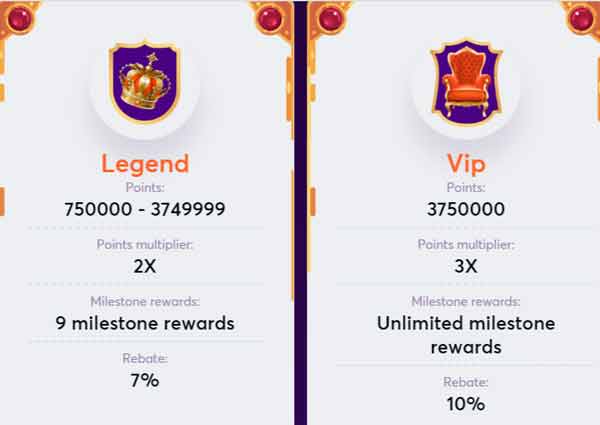 The first four levels only offer "Milestone rewards". These are mostly free spins or free bets. From the 5th level, they also offer "Rebates".
Rebates are cashbacks. These are awarded on the net loss a player incurs. The percentage of rebate depends on each player's loyalty-level. The rebate starts from 5% on the 5th level and progresses for each consecutive level up to a maximum of 10% on the 7th level.
Each level also has a "Points multiplier". The points you earn which indicate your level and advance you to your next levels are multiplied based on your loyalty-level.
All in all, the bonuses sure are nowhere as impressive as the ones offered on our mBit casino review or FortuneJack casino review yet are somewhat acceptable.
What are the minimum deposit/withdrawals and fees on Bitcasino?
I personally like a crypto casino with low requirements. Something which allows low deposits and hopefully even lower withdrawals. This eliminates the need to reach a certain fund-threshold before being able to deposit/withdraw.
On Bitcasino, the minimum deposit requirement for BTC is 0.001 BTC. For Ethereum it has to be a minimum of 0.01 ETH and Litecoin requires a minimum deposit of 0.1 LTC.
JPY deposit minimum requirements depend on the exact deposit mode you're using. Some payment processors allow depositing as low as 1000 円 while others requires 2500 円 minimum. The maximum deposit limits for JPY too vary according to the modes.
When using cards to deposit funds, the minimum requirement is the fiat equivalent of mɃ 1.00. The minimum withdrawal for BTC is mɃ 2.00. It varies for other Cryptocurrencies.
As for the fee, it again depends on deposit modes. Purchasing/depositing BTC using cards costs 1.95%/transaction. JPY deposits via EcoBanq is priced at 3%, via cards it's 5%, Skrill and Neteller charge 119 JPY and 110 respectively. Other modes are mostly free, or have their own fees.
Cryptocurrency deposits and withdrawals are completely free.
Is Bitcasino licensed and Provably fair?
That it is. The casino is licensed under govt. of Curacao and holds the gaming license- 1668/JAZ.
As for Provability, we couldn't find any Provability page. However the Casino staff did say the Casino had Provably fair games. Also, the game providers are some of the most reputed ones in the industry hence fairness wouldn't be a question.
Is Bitcasino available in your country?
Casinos are games involving real money and funds hence they're required to comply to a number of rules and regulations.
Pertaining to the same, Bitcasino isn't available in the following countries:
USA
UK
Netherlands
Estonia
Australia.
*Note that their T&C also mentions other "Restricted Jurisdictions" which haven't been singled out.
During our tests for this Bitcasino review, we were able to access the website and our accounts from a USA-location using a VPN. However, a popup warns us of the restriction and most major actions are restricted.
What are the games available on Bitcasino?
The total number of available games sure is impressive. The casino boasts a total of 2187 games.
All the standard game-categories are available including:
Slots
Jackpots
Roulette
Table Games
BlackJack etc.
How good is Bitcasino Support?
The support is one of the more impressive aspects on this Bitcasino review. They offer a 24X7 live-chat which is staffed with multiple representatives.
The response time too is in seconds. The overall co-operation, directness of answers instead of directing to links is worth mentioning as well. Although sure they can also be contacted via e-mails.
Final Verdict- Bitcasino Review
Let's wrap this Bitcasino review up? In our personal opinion, it's best for lower-budget players who prefer to stay anonymous. Higher volume players too would love it, but at the cost of their anonymity (as withdrawing 1BTC+ would require KYC).
The fiat deposit methods aren't very extensive, but if it's just Cards you wish to use sure go ahead. And just in case of problems, there's the live-chat.
So well, we've got mixed feelings. And the lack of deposit bonuses are a major downer. But at the end of the day, it still makes for a decent Bitcoin casino.
So this is us signing off this Bitcasino review. But we'd love to pick your brains on the Casino and its features! Use the comments maybe?