If you like Vikings and gambling, you'll love this Konung Casino review. I'm sure it's clear that Konung is an online Bitcoin casino. But, how good of a casino it actually is? Well, that's what we'll discuss in this Konung Casino review.
I've been with at least 15 Bitcoin casinos so far. Hence, I've  a fair idea of what questions you may ask before finalizing a Bitcoin casino. You can find answers to the following questions in this Konung Casino review:
I believe that'll get you a neat insight into the casino, wouldn't it? Let's get you some answers then?
Konung Casino Overview
This overview will share with you all the primary features that the casino boasts of. It'll let you get an idea of the casino without getting into the details:
Website: https://www.konungcasino.com
KYC:

Optional

Payment modes:

Crypto + Fiats

Welcome bonus:

€300.00 + €100.00 + € 100.00.

License:

Curacao.

Provably fair games:

No

Minimum deposit:

€10.00/ 0.0015 BTC.

Well, let's dive deeper, eh?
What's required for registration on Konung Casino?
As far as registration goes, it seems pretty anonymous. Here's the registration form: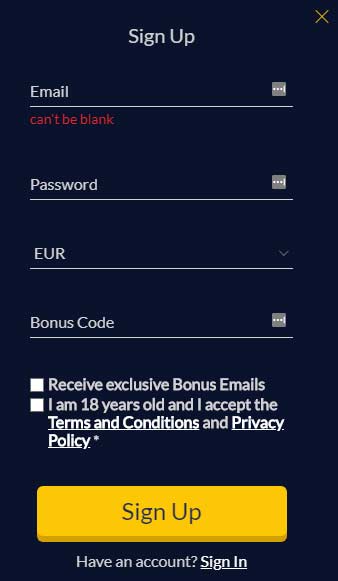 As is clear, it only requires random details which aren't identifiable to a person in real life.
No verification of this data is required so far. The E-mail sure needs to be verified. However, if you're concerned of your privacy, you can always use a good VPN to achieve anonymity.

Does Konung Casino require KYC documents/identification?
Not exactly. The Casino has an "on-demand/optional" KYC policy. The documents are not always required for withdrawals. However, they may be requested at a later time by the support staff.
Well, technically, it is possible to deposit/withdraw funds without any document-submission, as long as they aren't requested by the staff.
Although, there's a "documents" section in the user-profile. You can upload your documents manually even without they being demanded by the casino staff.
Furthermore, the casino also may request "financial documents". Meaning, documents which prove your ownership of the "deposit mode". E.g. credit card photos, bank statements, profile-page screenshots etc.
There's one more obstacle. Anytime you click on "deposit", a pretty privacy-intrusive form is shown: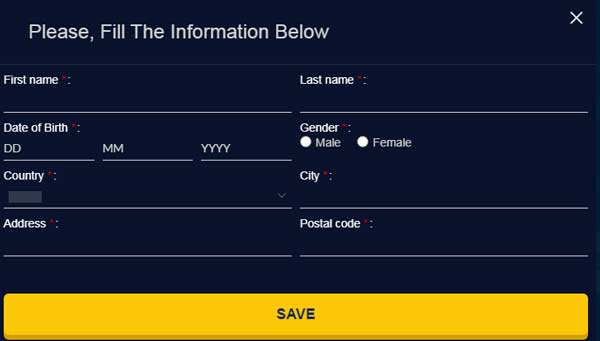 As is evident, it demands the name, address, city,  postal code and other very personal information.
So, all in all, I must say that it's not an anonymous Bitcoin casino but does require identification one way or the other.
You can also check our 7Bit Casino review or BitStarz Casino review if you need anonymous Bitcoin casinos.
What are the bonuses on Konung Casino?
I'll be direct, this specific Crypto casino isn't big on bonuses. However, as is traditional with the best Bitcoin casinos, three primary types of bonuses exist:
Deposit bonuses
Weekday bonuses
Special bonuses
The first deposit bonus is still  acceptable if not impressive. It offers 100% bonus, up to €300.00.  However, if you deposited Bitcoins, it offers a much higher limit of 0.5BTC. The bonus is also accompanied by 50 free spins.

This also has a shorter shelf-life. Meaning, the first deposit bonus is only valid for 2 weeks from the day it's activated. After that, it's nullified.
The second deposit bonus is a 70% bonus, however, it's limited at €100.00. While, the third deposit bonus is an  even lower 60% bonus limited at €100.00.

The second and third deposits will also get you 30 and 35 free spins respectively.
There's a 49x wagering requirement on all bonuses. Note that no withdrawals are possible unless all the wagering requirements are met.
As for Weekday bonuses, they're available on Mondays and Fridays. On Mondays, a 30% bonus is offered up to €100.00 with 30 free spins. On Fridays, there's a 50% bonus up to €50.00 with 50 free spins.
There's one other, unique "special bonus". It's offered on a user's birthday. In fact, it's the biggest bonus of them all. It's backed 100%, up to €500.00.
Sure these bonuses are acceptable, but, they aren't impressive. Especially because if you go through our mBit Casino review or 1xBit review, you'd find that those casinos offer bonuses up to 7BTC (approx. $70,000!).
What are the deposit/withdrawal modes on Konung Casino?
This is one of the most impressive aspects on this Konung Casino review. It accepts deposits/withdrawals via both Cryptocurrencies, and fiats.
Obviously, fiats  aren't an anonymous mode of transaction. Yet, they're simpler, traditional and more familiar to most of you.
However, given that you're searching for Bitcoin casinos, you'd probably go with Bitcoin or other Cryptocurrencies. Smart decision as It's also more profitable (higher bonuses) than fiat deposits.
The accepted mode of fiat payments are:
Cards (VISA/ Mastercard/ Maestro), Paysafecard, Ecopayz, Neteller, Skrill, Klarna, Zimpler, And RAPID.
As for Cryptocurrencies, you can deposit using:
Bitcoin, Dogecoin, Ethereum, Litecoin, And Bitcoin Cash.
As for Withdrawals, some of the modes above do not allow that. So, you can withdraw your funds from Konung Casino using cards, Skrill, Neteller and Cryptocurrencies.
If you need a Crypto-only Bitcoin casino, you can check our FortuneJack review.
What are minimum/maximum deposit/withdrawal requirements?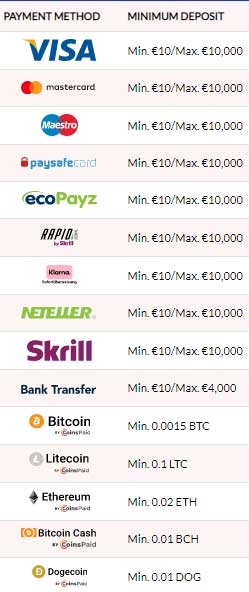 Like most other crypto casinos, Konung Casino too has minimum requirements for deposits and withdrawals.
All deposits via fiat modes must be a minimum €10.00 (or, its equivalent in other currencies.) The maximum amount which can be deposited is €10000.00 for each deposit.
Cryptocurrencies have varying limits, depending on each Cryptocurrency. E.g. BTC deposits must be a minimum 0.0015BTC.  For LTC, the deposit must be at least 0.1 LTC and so on. Refer to the screenshot below for limits on each mode:
As for withdrawals, fiat withdrawals have a minimum withdrawal requirement of €20.00.  The maximum limit is still €10,000.00; just like deposits.
Cryptocurrencies again have their own limits. The minimum accepted BTC withdrawal is 0.001BTC, the maximum limit being 15 BTC.
ETH has a minimum withdrawal requirement of 0.01ETH. Maximum 200 ETH can be withdrawn at a time.
LTC has a min./max. requirement of 0.01LTC and 200 LTC respectively. BTCH withdrawals must be a minimum 0.001BTCH and can be maximum 20BTCH.
And finally, DOGE has a minimum 0.01 DOG and maximum 20000000 DOG limit.
All in all, I'd say the limits are pretty rational and pocket-friendly.
Is Konung Casino provably fair and licensed?
As always, this is one of the most important questions on this Konung Casino review as well.
Fortunately, Konung Casino is a licensed company owned by Dama N.V under the govt. of Curacao.  Its license number is- 8048/JAZ2020-013.
As for provability, that doesn't seem to be possible. However, the company claims to be certified by Itech labs, Australia. This would mean that the RNG (Random Number Generator) used by the company is legit and truly "random".
Is Konung Casino available in all the countries?
No, it's not. Just like any other legal, regulated Bitcoin casino. It has a number of geographic restrictions.
Users from the following countries are banned from playing any real-money games on the casino:
USA, UK, Spain, France, Lithuania, Israel, Netherlands, Dutch West Indies, and Curacao.
Also, there are game-based geo-restrictions as well. Meaning ,certain games aren't available to users from a certain geographic region.
Furthermore, for some reason, Swedish users aren't allowed any bonuses even though they're allowed to play games on the Casino.
How is Konung Casino's support?
Not great. I wish to make this Konung Casino review honest and so let me be blunt. A live-chat support does  exist. It's functional, and is 24X7.
What's disappointing is the response-time. I've literally waited over 15 minutes for individual replies.
I've tested this at various times, on different weekdays. The response-time is always a disappointment. However, they do reply; even though not very fast.
A contact form too is available which can be used to get in touch.
Konung Casino Review – Final verdict
So, going by this Konung Casino review, is it the best Bitcoin casino out there? Not exactly, but I'll say it's close.
That's primarily because it offers a plethora of payment modes, has acceptable bonuses as well as minimum limits.  It doesn't charge any fee for deposits or withdrawals either.
The only issues I have with Konung Casino are its privacy-policies and support. But well, nothing is perfect now, right?
In other words, if you need a Bitcoin casino, which accepts many other Cryptocurrencies as well as fiats and offers acceptable bonuses, Konung Casino is a potential choice.

And, that'll be all for this Konung Casino review folks. If you'd like to explore a few more options, go through any of the other Bitcoin casino reviews we've got for you here.