Gone through our mega list of the best Bitcoin Casinos? If yes, you'd find this Cloudbet review to be much simpler than most on that list. Its policies, requirements and overall usage is crafted for the newcomers. That been said, ironically it also is one of the most feature-rich and Secure Casinos out there.
We've been into Bitcoin Casinos since the days they came out. Hence, to some extent we believe we understand what you're looking for.
The questions we address in our Bitcoin Casino Reviews have been custom-tailored to look at each aspect of these Casinos. For Cloudbet, we'd be answering the following questions:
We believe the above questions cover everything from registration to withdrawal of funds. Let's answer them in-depth throughout this Cloudbet review.
Cloudbet Overview
Before getting a detailed insight of the platform through this Cloudbet review, here's an overview of the platform:
Website: https://www.cloudbet.com/
Registration:

Required.

Verification:

Optional.

Provably Fair:

Yes.

License:

Curacao

Welcome Bonus:

5 BTC.

Deposit Methods:

BTC + BTCH.

Live Chat:

Yes.

Does Cloudbet Require KYC/Identity Verifications?
I'm not a fan of KYC-requiring Casinos. Because then your deposits/withdrawals as well as winning amounts can be linked to your personal identity. In general, the idea of having to divulge real, personal information online isn't something I like either.
Fortunately, Cloudbet is a pretty liberal platform when it comes to KYC and/or Identity Verifications.  For starters, here's the registration form which needs to be filled on the platform: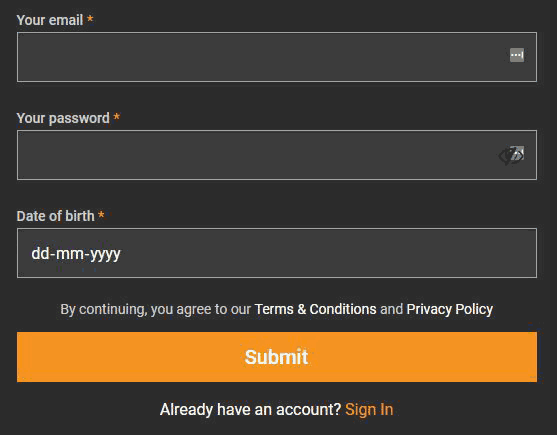 As is evident, it's one of the most anonymous forms (comparatively) ever. You only need an E-mail and your Date of Birth. The E-mail can be anything random, and completely unrelated to you.
The date of birth sure is personal information, however it can't be directly used to identify a user. Millions have the same D.O.B. We confirmed, the D.O.B has to be true and real and you can't enter false information.
Bottomline, the registration is pretty anonymous and non-KYC requiring. Even better news is, Cloudbet doesn't need KYC identification or documents for deposits or withdrawals either.
It's completely optional, and is only asked for in special cases. So yes, Cloudbet is an anonymous Bitcoin Casino.

What Bonuses does Cloudbet Offer?
Cloudbet offers a simple, single deposit bonus. It's availed only on the first deposit. This is what made Cloudbet Simpler, unlike most other platforms such as the one we saw in our FortuneJack Review or mBitCasino Review.
Most Casinos offer multiple bonuses, such as a 1st Deposit, 2nd Deposit, 3rd Deposit Bonus etc. And each bonus has its own requirements and Terms. With Cloudbet, that's not the case.
The Welcome Bonus is capped at a maximum of 5 BTC. Although note that it's not just sent out all at once. Rather the bonus is only sent out when a user earns "Loyalty Points".
These points can be earned by playing games and placing  bets on the Casino. For every 800 Loyalty Points that a user earns, the user gets 0.01 BTC out of his 5 BTC Welcome Bonus.
So in theory, you need 80,000 Loyalty Points to earn 1 BTC, accordingly 450,000 Loyalty Points to earn the total 5 BTC welcome bonus. The points you get vary depending on the amount of bets placed, game score and other such variables.
In my personal opinion, that's not exactly very easy or feasible but isn't completely  improbable either.
The validity of this Welcome Bonus is 365 days. If not claimed within a year, the bonus expires and can't be claimed later.
Obviously a number of other bonuses are available, such as:
Money Back Monday.
Turbo Thursday
Win Win Wednesday.
A number of seasonal bonuses (Halloween Leaderboard, Slots Tournament etc).
Money Back Monday (Cashback Bonus)
On all deposits made on a Monday, the platform returns 25% of the users' losses. The maximum amount which can be returned is 50 mBTC or 1.8 BCH/week/customer.
The 25% loss must be a minimum of 2 mBTC/ 0.07 BTCH in order to be paid out.

Turbo Thursday (Reload Bonus)
This too is a 100% bonus on the deposited funds. It's granted for all the deposits made on a Thursday and is basically a "reload bonus". It's capped at 50mBTC or 1BCH.
It can only be utilised within 1 day of the bonus being credited or else is fortified. However these can only be withdrawn after a 30x play-through.

Win Win Wednesday (Winning Bonus)
This bonus is granted on "Wins". An additional 20% is granted on top of a user's winnings. The maximum bonus provided is 50 mBTC or 1.8BCH.
It's only provided on funds deposited on a Wednesday, and money won on the Live-Casino.
All of these deposits also have a minimum requirement which is mentioned in the "Minimum Requirements" section of this Cloudbet Review.


Which Currencies can be Used to Deposit  Funds on Cloudbet?
While most popular and successful Casinos allow both Fiat and Crypto deposits, Cloudbet is far from following the crowd.
It not only doesn't allow Fiat deposits but even has a very limited Crypto deposit options.
The only two Cryptocurrencies accepted for now are:

Fortunately, they do accept Multiple deposits to the same address. So if you sent lower than what you'd like, you don't lose your previous deposits.
That doesn't mean you're stuck with just one Bitcoin address for all eternity. Users can generate new Deposit addresses at will simply by clicking on a link provided right there.
Comparatively speaking, lack of fiat deposits may hurt some. As you'd need to own Bitcoin or Bitcoin Cash in advance in order to deposit on the Casino. But then again, from an anonymity standpoint it's pretty desirable.
What's not desirable is the lack of other Crypto-deposit options. While it's not rocket-science converting one Crypto to another, it would just be better if Cloudbet directly accepted atleast some other major Cryptocurrencies.
What are the Minimum Deposits/Withdrawals/Bets Possible on Cloudbet?
Another factor which leans Cloudbet to the "simpler" category. Less deposit methods equal lesser variations for the Deposit and Withdrawals limits.
The minimum accepted deposit is a low 0.001 BTC. Totally affordable and is parallel to what other similar Casinos ask for. There's no maximum deposit limit.
The minimum withdrawal amount too is 0.001 BTC. Again you can withdraw your funds even though you haven't made a million dollars.
As for bets, the lowest bet accepted on the SportsBook is 0.0000001 BTC. As for the Casino, it's 0.00002 BTC for Slots. Varies for other games.
The minimum requirements to avail the Welcome bonus is 0.01 BTC.  Any of the other above-mentioned bonuses require 0.1 mBTC deposit minimum.

Does Cloudbet Offer a Loyalty Program?
As seen with most other best Bitcoin Casinos, they all offer a "Loyalty Program". Cloudbet is no different. These programs help the casino reward their repeating and frequent customers with bonuses and other benefits.
The VIP program offers Higher Limits, lower wagering requirements, faster withdrawals, and even some VIP-exclusive promotions.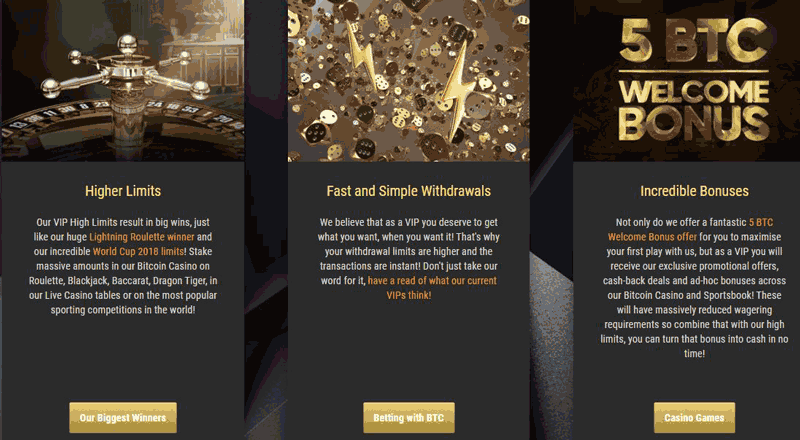 Other benefits include better chat options, and even dedicated VIP managers. The VIP Program however can't be joined manually. It's invite-only for now.
Does Cloudbet Hold a License and is it Provably Fair?
Yes. Let's start with the fact that Cloudbet uses a certified (from Gaming Laboratories International) RNG (Random Number Generator). This ensures that all their combinations and numerical are really random and aren't faked or pre-decided. So yes it's Provably Fair.
It is a registered company under Halcyon Super Holdings BV, Pareraweg 45, Curaçao and is licensed by the government of Curacao as well. The license number is 1668/JAZ and it can be independently verified by anyone.
 Which Games are Available on Cloudbet?
Cloudbet offers two primary types of Gambling abilities. Sportsbook and Bitcoin Casino. Its Sportsbook lets us gamble on real-life games such as Soccer, Tennis, Baseball, MMA etc.
Although this Cloudbet review is scribbled from a Bitcoin Casino perspective, so its Bitcoin Casino offers the following games:
Slots
Blackjack
Jackpot Slots
Table Games
Baccarat
And Roulette.
It also offers Live-games. These are played in real-life Casinos, and a real human dealer is present. The games are streamed via webcam live.   The minimum bet, and the country of the dealer is shown on the game-selection page.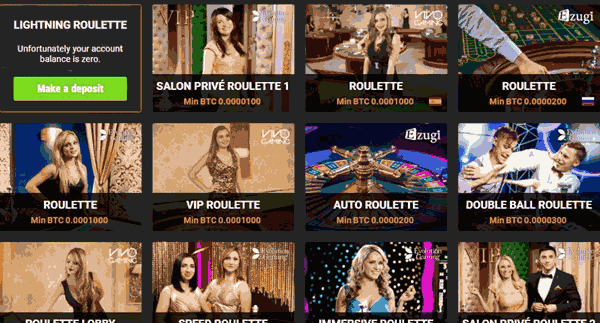 Although unlike most other Casinos, entry to the live-casino isn't allowed to players who do not have sufficient gambling balance.
Is Cloudbet Safe?
It does seem so. It's one of the few casinos which employ "Cold Storage" for storing the user funds. No numbers are mentioned regarding the % of funds stored in Cold Vs. The hot wallet.
However it sure seems to be available. In addition to that, the user profiles can be secured with 2-Factor Authentication. This would prevent any direct hacks and unauthorized access to the account/funds.

Which Are the Cloudbet Supported Countries?
This is the one question we can't answer with absolutely details in this Cloudbet review. The casino isn't global that's for sure. Their support team explicitly mentioned that they do have "country restrictions".
However, which countries are included in this restricted list for some reason isn't made public. Rather, the users if residing in those restricted countries are individually notified of the restrictions.
Is Cloudbet Support Good?
Good? Totally! Cloudbet offers live-chat on the platform. It also is available for non-registered users. Is it the best? Probably not. I've seen better support provided (in terms of language clarity and speed) yet the difference is only by a narrow margin.
The chat sure is 24X7 (we verified) and consists of multiple staff so that's a win. The staff is cooperative, and do answer questions directly without sharing links and redirections.  They also have an additional "Customer Support" link which redirects to a Tutanota Mail ID.
Final Words on
Wrapping this Cloudbet Review up, I'd say the Casino is one of the most impressive on multiple fronts. For e.g. the anonymity and support. The deposit methods too are acceptable (not, if you're a fiat-person).
The 5BTC welcome bonus is pretty impressive as well, along with its other three primary bonuses. The seasonal bonuses bridge any gap left between the user and their bonus funds.
It takes security pretty seriously as well. But hey that was all us. Why don't you drop your two cents on this Cloudbet review in the comments?